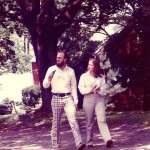 Dean and I met in a very unconventional way when we were both 22. I was working at "Higher Horizons" an adapted "Outward Bound Program" for troubled youth when Dean interviewed for a job there. We were quite understaffed and overworked at the time. Back then it was an unconventional program which meant our boss had an unconventional way of interviewing job applicants (something I'm not sure he could get away with now!)  He would send perspective staff on a 3-day trip with a group of juvenile delinquents and seasoned staff and when they all got back the staff would tell him what we thought of the applicant.
Dean had just returned from Alaska when he came to "interview" with our program. He had successfully finished a 42-day mountaineering expedition to the peak of Mt. McKinley (tallest mountain in North America).
The staff at Higher Horizons were all in their 20's and worked hard and played harder. We lead 28-day wilderness trips with up to 14 youth from NYS (New York State) juvenile correction facilities. Two or three staff were responsible for the trouble youth 24 hours a day for up to 14 days at a time, until other staff came in to replace you.
When the trip was over, we always had a staff meeting to debrief with our boss and then went out together to unwind. Dean did his "interview" on a 3-day orientation trip and the staff had been "unwinding" the night before, so we were pretty tired. That morning we loaded the kids and the gear up in the van and drove up to the Adirondack Mountains to the trailhead. Dean didn't get much training from us before we left, but it was obvious that he was a skilled wilderness leader. It was raining when we got there and we had to hike about 8 miles into the lake where we would set up camp. When we got there, we set up our tarps and spread our sleeping bags; it was still raining so we all got under our tarps. We talked for a while with the boys, but the staff all ended up falling asleep since we had been "unwinding" till the wee hours the night before.
We woke hours later to find that Dean had all 14 boys under control and they had collected wood, started a fire and were making dinner. We (the staff) felt terrible that we had all fallen asleep and left Dean to figure out what to do with all these kids, but we were all impressed with how comfortable he was.
The rest of the trip was uneventful and we all felt that Dean had passed the interview with flying colors.
Because we were so short staffed and I was one of the few senior staff I was pulling more and more days in the field with little time off. About a month after Dean's "interview" I complained to my boss about being understaffed. I asked him about that guy who came out with us last month, said he was good, why don't you hire him and he did.
At that time, I had no idea that we would eventually marry. Honestly! It wasn't until we had worked together for almost a year that we had our first date. This year marks our 34th anniversary, all these years later; I'm not sure why it has worked! Maybe because we are both so comfortable with whom we are that we have been able to build a beautiful lifestyle together!