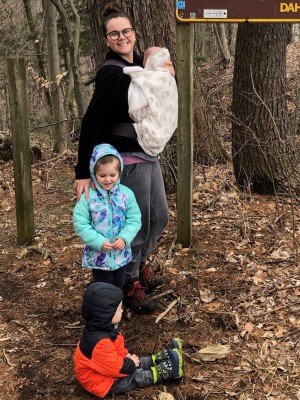 This is our beautiful daughter- in – law, Jordi with her children. Jordi is down to earth, kind, fun loving, humble, considerate and loyal. Born and raised in North Carolina she is a charming southern girl through and through. Jordi grew up near her close-knit extended family, grand parents, aunts, uncles and lots of cousins.
Jordi has many happy memories of playing at her grandmother's home with all her cousins. Dean and I are blessed that she is carrying this tradition forward. She looks for opportunities to come to our home when "the cousins" are here so they can all play together. This is such a great way of bonding families and building fond memories for us all.
Her college roommate was engaged to our son's best friend and I think there was a bit of matchmaking going on there. Our son eventually won her heart, which brought her into our hearts, our family and New York State. I know she misses her family, the Blue Ridge Mountains and her southern roots. But she is a welcome member and adds a lot of love and joy to our crazy family.
Jordi is devoted to our son Hal and their 3 children. She loves being a wife and stay at home momma. Even though they presently live in a 3rd floor apartment, she manages to get their 3 little ones ( ages 4, 2 and 9 months) out and into nature. Besides the usual trips to playgrounds, she really loves to have adventures to more natural places like the Saratoga Battlefield.
Jordi is teaching her kids about patriotism and the history of our country while exploring and finding bugs and dragonflies and waterfalls. I love that Jordi shares her love of the outdoors with her kids and getting dirty isn't something that has to be avoided.
Jordi has a strong christian faith that she is sharing with her children and this warms our hearts to see.
We are blessed to have her in our family.