This is part one of a three-part post. Here you will find part two and part three.
My buddy and I recently finished a hike in the Adirondack High Peaks. I've done a fair amount of mountaineering before (including a three-week trek across the Sierra-Nevada Range and back) and a lot of hiking and camping, but this was the toughest hike I've ever been on. It included thirteen peaks, ten of which were high peaks. We did this all in one continuous hike without stopping for more than ten minutes (that was our longest break, at lunch-time). You can follow along on the map below if you like (the blue line is our route).
We started out at 4:30 AM at the Adirondack Loj, hiking towards Wright Peak. We stayed the night before at a very nice hostel called the Jack Rabbit Hostel. We got up there a little late though, and ended up getting less than five hours of sleep (Side note: I don't recommend trying a hike of this nature on less than five hours of sleep). So, back to the hike; we started towards Wright Peak, and as you can see it is an up-and-back trip off the trail. Well, I was getting pretty tired already, and was pretty discouraged, knowing that this was the beginning and I should be fresh. I dragged myself up Wright Peak and was relieved to find the trip down quite restful while enjoying the gail-force winds on the top (every time I've been up Wright Peak it has been very very windy, in fact one time my buddy Duke and I brought an anemometer up to measure the winds and clocked a 69 m.p.h. gust).
So we were on to Algonquin now, the second peak we were tackling in the MacIntyre Range. I was starting to feel a lot better by now, and the psychological effect of knowing that we were going up and over Algonquin (not up and back) was very encouraging. We knocked out Algonquin pretty quickly and started the hike towards Boundary Peak.
After about an hour, I decided to check the map, thinking we should have seen the trail marker for Boundary by now. Well, after double-checking the map I realized that the trail to Boundary Peak was slightly lighter in color than the other trails. I checked the legend, the trail was unmarked! We were pretty devastated because the trail to Boundary Peak also led to Iroquois Peak. We were only a few hours in and had already lost two peaks. We considered going back but realized we just didn't have the time.
Now we had the long trek down to Lake Colden. It seemed to take forever to get there. Long downhill stretches really stress your knees and quadriceps. When we reached Lake Colden we had quite a bit of flat, which was a nice break for our legs, but a huge mental bummer. It was just a lot of work with no reward. It was here that we decided to pick up Skylight Peak in light of missing Boundary Peak and Iroquois Peak.
Along this trail we ran into a slew of trail intersections. We asked a fellow hiker for confirmation that we were heading towards Marcy Peak. He regrettably told us that we had passed the trail head, and told us where to pick it up. We hiked back to where he had explained to us but did not see the trail head. We decided to wait for him (we were traveling the same direction as him, but we were moving much faster) and ask him which was the right way. When he met up with us, he explained that he misunderstood us and thought we were looking for the Marcy Dam, not Marcy Peak. We were actually on the right trail all along. This was extremely frustrating and cost us well over an hour. After this we decided to just trust our map-reading skills and not ask anyone else for directions.
We finally made it to the Marcy trail head. By this time it had been raining steadily for a few hours. This really killed our pace and our morale. This was the place to pick up the trail to Skylight Peak, so we started the hike up. It was a very very narrow path that followed a stream the whole way. Any part of our feet that we had managed to keep dry in the rain was now drenched. The view was pretty much non-existent because of the rain. The way down Skylight was very slow because of the slick gushing stream bed.
Once we reached the bottom, it was time to head towards Marcy Peak. The highest peak in the Northeast, and the start of The Great Range.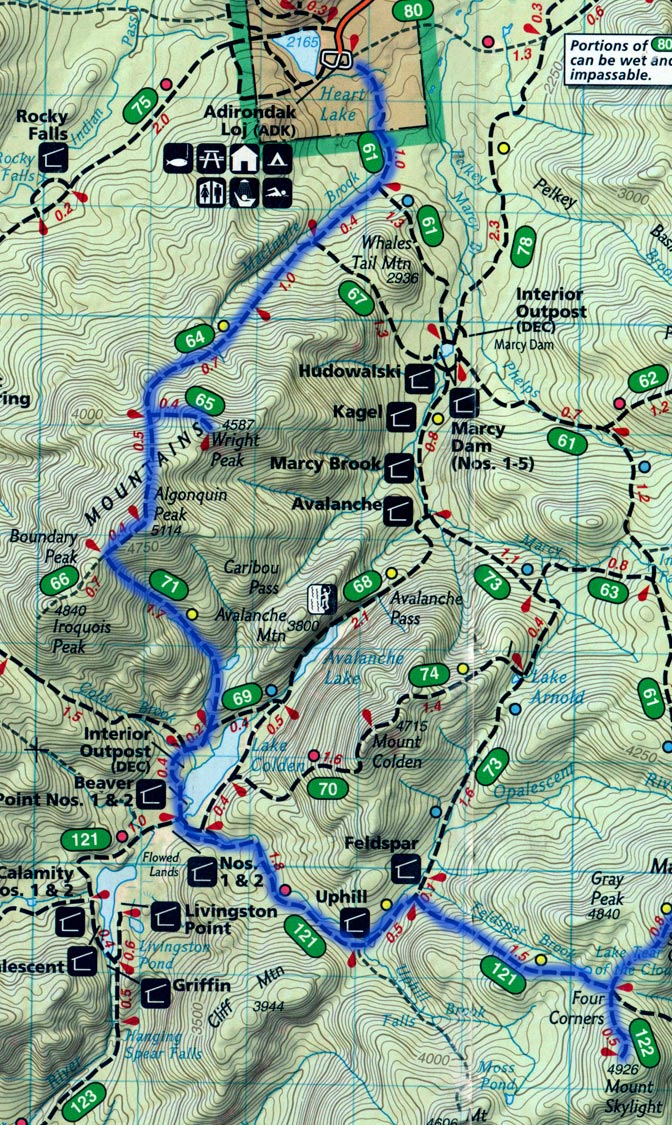 You can read part two here.