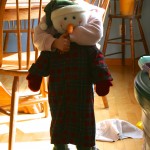 Hi friends, today I'm introducing P. Buddy.  He is a collaborative brainstorm that was sparked by our grand daughter, Number One. It all started several years ago with having a Christmas open house at our soap shop. I decided I should do a little decorating for it. Among other items, I bought a cute snowman that stands about two and a half feet tall. Later when our son joined Alabu he thought we looked too homespun and folksy. He thought Alabu needed a more professional image to match the precision of our formulations and the quality standards of our products. He said the snowman had to go. So I happily brought him home.
The first time our grand daughter, Number One saw him it was love at first sight! She carried him around our house even though he was taller than she was. That was when we started calling him Buddy. She put him down for naps on the couch and covered him with a blanket. She made him stand in the chair for time out.  She even brought him into the bathroom when she thought it was time for him to be potty trained. Number One really liked to come to Grammy's house to play with her Buddy. She would often say to her mom "Grammy's house- lunch- play Buddy!" But Buddy had one big drawback. His body and legs are sticks and he doesn't bend. All the hugging, carrying and dragging were taking its toll on him. He was getting very sad looking and I finally took him apart and nailed and glued him back together.
That little exercise got me thinking. I could make one that was soft bodied that could sit and be more huggable. I had made my kids dolls were they were little, so I was confident I could do it. Then it occurred to me that this new Buddy would be even better if he had a wire skeleton so he could be posable.  I recruited Dean to create a skeleton out of coat hangers. He made one fairly easily. Unfortunately I had not thought about how I would make it after that first step. It was going to be much harder to make the shell of the body and stick the wire inside and have it completely covered with stuffing. I tried a few different ideas and I wasn't happy with the results so I took him apart and started over with the wire skeleton. I had no idea what I was getting myself into with this project and I wanted to give up. Finally on my third try I decided he was done (or actually I was done  :o)  I wasn't entirely happy,  but Number One and Number Two think he is wonderful. We decided to name him P. Buddy. P as in posable.  We have even recruited his help at Alabu.
Now both girls are asking to come to Grammy's to play with P.Buddy and Buddy and Mr. Moose! Yeah, well he is another story for another day.