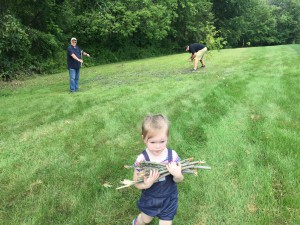 We have a surprising amount of work to do around here on our little mini farm. We mostly enjoy being outside and working but some chores are not as enjoyable, until you mix in the grand kids.
We had a storm roll through that left some tree damage. There was a large dead tree that fell near our driveway. Dean cut it up into manageable pieces to restock our campfire wood.
I helped him pick it up the logs and move it to the campfire area. We looked around and there were still millions, well maybe not that many but a lot, of small sticks. Dean said let's leave these and see if the grandkids want to help pick them up when the come on Sunday. Well they did. They all really enjoy when family Sunday dinners involve the campfire and we cook hot dogs and maybe even s'mores!
All helped with this daunting work and they did it cheerfully at least the first few trips! Number Four carried one load and wasn't a big fan, but she did happily water trees for me, another job that needed to be done. One loved showing off how many sticks they could carry, right Mr. Number Three? Another one took the work so seriously. Little Miss Number Five had heard me sing the first line of "Whistle while you work" and the next load she sang her own little work song all the way to the pile. We were all just in awe and so tickled with this little just 2 year old making the work load lighter. Thank you all our little helpers!