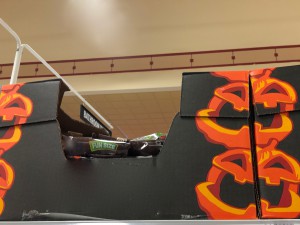 This time of year it seems nature is in denial. The stores have already moved on to Fall, no turning back.  I took this picture the first week of August, really halloween already? I know that Summer is almost over, but please don't rush it. Some parts of nature are moving towards the next season, like the male hummingbirds are not in denial, they have already migrated, they always leave first to get the best spots for the ladies who join them later.
The hundreds of noisy grackles have flocked, cackled and passed through on their way south. Some of my vegetables are done but most of the gardens are at the height of production.  The Fall crops are ripening and the elderberries have all been eaten by the birds ( except for some I was able to get to first). The late raspberries are a sight to behold ripening on bowing branches. I'm having a hard time keeping up with them and all the cucumbers, zucchini, pole beans, melons and tomatoes.
The weather seemed to be gradually moving to more Fall-like weather last week and then the 90 degree days and hot nights were back! Here and there are small signs of foliage losing their chlorophyll and changing color, but for the most part it seems greener later than usual. So as I contemplate the seasons changing and look forward to the next, I'm going to take time to appreciate the last glow of summer here on the farm, maybe I'm a little in denial.