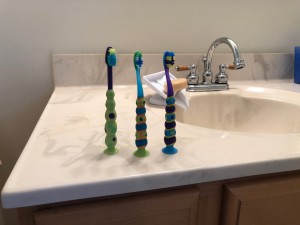 This month I posted pictures of our puppy, 2 months old and now a little over a year old. Puppies grow up  fast. It got me thinking about how much our grandkids have grown. You don't notice it so much when you see them frequently. They don't spring up seemingly over night like a puppy, but they are growing, maturing and learning everyday.
It's been hot here  and the grandkids have been up a lot lately. They willingly help in the garden before cooling off in the pool. Thanks kids, Grammy appreciates you. They are all making great progress in their swimming skills. Last year most of them didn't even want to put their face in the water (except for Little Miss Number Five, she is part fish). It makes me want to slow down and take in this season of our lives. There is more than a garden growing here. I need to try harder to remember that each one is an individual and growing and maturing at their own pace.
One loves to get into mischief ( well maybe more than one…). I wondered out loud why she would line up the toothbrushes on the upstairs bathroom sink and not own up to it at first. Her mom reminds me she is 6,  I say oh, yes she is six. All of our grandkids are growing and thriving and we are thankful for each one.