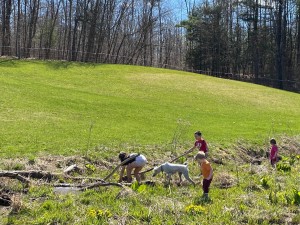 One of the joys of childhood is making new discoveries and exciting memories. Over 26 years ago we moved out of the suburbs to the country. We had moved off our 5 acre farm to the suburbs to care for Dean's father. After that, we moved back to the country.
This time we bought a dilapidated farmhouse on 70 acres. We actually lived in a tent for 4 months while we gutted and renovated the farmhouse. Our kids were 9 and 6 years old. We felt bad for them and they each got a kitten from the pound. So at night we had the 4 of us, our dog and 2 kittens in a tent.
It was a lot of hard work but a fun adventure for the kids. When we first moved to the farm we watched as the kids gleefully ran through the fields. It somehow confirmed that we had made the right decision in buying this money pit of a house even though everyone else thought we were crazy.  Now fast forward. Our grandkids are now enjoying the farm to no end.
Now that the grand kids are a little older they are starting to explore further from our house. The last warm day when they were here Miss Number Two discovered the little stream at the bottom of the hill. Soon all the kids were down there with excited laughter and running up to tell us what they had found there. First it was frogs and a little later a snake. They spent hours walking along that little flow of water seeing what new thing they could discover and running back to the house excitedly to tell us.