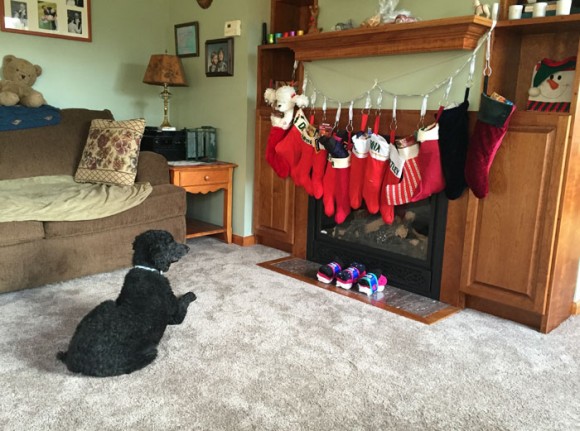 I loved making memories for our kids and now our grand kids too. It helps give everyone a sense of family identity and feel like they belong. It also builds excitement and makes the holidays so much fun. Though once you get married you have to figure out how to compromise if you have conflicting traditions.
It took a few years but we have been able to do that without too much upset. One of my favorite memories was seeing our tree for the first time on Christmas morning. My dad got a tree on the way home from work on Christmas eve and they put it up after they came home from midnight mass and we were all fast asleep. So we never saw anything until Christmas morning and it was always so magical to see it the first time. Christmas eve my mom always read the story of Christmas from the book of Luke in the bible. Then we hung up stockings over the fireplace and went to bed.  My mom also made tons of cookies with her best friend so there were plenty to share with Santa and carrots for the reindeer.
Dean's favorite memory is helping put the tree up weeks before Christmas and seeing the growing pile of gifts under the tree as Christmas morning grew near. Dean, being a morning person ( no, really a morning person, he gets up at 3:45) there was no way he was going to put a up the tree and decorate it on Christmas eve after the kids go to bed. So I had to give up sharing that magical morning and put up our tree a week or so before Christmas. But I have noticed they are still excited Christmas morning.
I have added new traditions too, Dean and I make cookies with the grandkids and one of my favorites things I added is an advent wreath. We do it on the four Sundays before Christmas at dinner and we light a white candle on Christmas morning called the Christ candle. It helps us refocus the morning on Christ's birth. The grand kids wanted to sing Happy Birthday to Jesus afterwards and that was pretty cool.  We added a lot of other things like going to Dean's brother's Christmas tree farm for our trees which is always lots of fun.
Our kids and grand kids gather at our home after church on Christmas eve to have appetizers and hang up stockings which is almost too exciting. Dean's family always had the same breakfast for Christmas, eggs, bacon and hard rolls. Our kids come to our home after they make their own Christmas memories at their home and Dean makes breakfast for everyone.
And then there is this;Â I have a Christmas stocking that I bought around the same time we got our dog Chia, it has a poodle on top and sings Christmas songs. Â Chia loved it and instead of being just a decoration it eventually got hung up with all the other stockings and got a treat for Chia in it. She watches as we hang the stockings and just can't wait to see what she got, but she knows she must. A stocking for the dog? I wonder if I'm making memories that our grandkids will think back and think grammy was crazy?