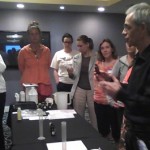 I had the pleasure of taking a trip to NYC and taking a seminar taught by Robert Tisserand. He is the foremost expert on essential oils and aromatherapy. If you are interested in aromatherapy or essential oils and you ever have the opportunity, I would highly recommend Robert Tisserand and his work. What I appreciate most about his approach is the science behind his teaching. He doesn't take anything at face value; he finds research to back it up. If there haven't been studies and trials to prove the theory it is just someone's opinion, not science. Too often people believe something they have heard about an essential oil and it turns out to be a myth, even though they may have read it in a book.
Robert Tisserand doesn't just educate about the properties a particular oil might have, he educates how it works on the skin or olfactory systems. It's a holistic approach backed up by science. No scare tactics, just the facts as they are known. Sometimes there is so much information given that it is hard to keep up, but his warm approachable style makes it comfortable to ask questions or further explain. He is a humble teacher, even though he is of international acclaim in his area of expertise. Robert is eager to impart what he knows. He laughs easily and jokes with his students. I admire how he can teach a group of people (mostly women) with mixed experience and knowledge base of essential oils, from complete beginner to advanced practitioners. I'm sure everyone came away with new understandings and respect of the role essential oils can play in helping skin stay healthy.
I am hoping to make some new products for Alabu with what I have learned and try using some of the costlier oils that I have shied away from using. As an added benefit we were privileged to make and take home several formulations that smelled wonderful.
I took advantage of what we made in class on the train ride home from NYC. I didn't much like smelling the diesel of the train, so I used some of the Dry Skin Lotion we made in class and smelled the dreamy fragrances of Rose, Sandalwood and Lemon. Thank you Robert Tisserand for the educational seminar and the much more comfortable train ride home!