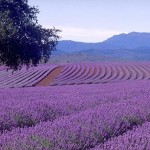 The first soap I ever made was lavender essential oil.   It was readily available at the health food store and I thought it would make a fresh clean smelling soap.  It turns out that the name lavender is derived from the Latin "to wash".  People have known the value of lavender for over two thousand years, but not for just washing themselves.  It has been used for a wide range of practices ranging from anxiety to pain reliever.  It had been thought to have protective properties that would ward off the plague.
Today, studies have confirmed that lavender can induce a calming sedating effect when inhaled. It has also shown to improve circulation problems, mental balance, insomnia and depression.  It is also used as a pain reliever for certain conditions like sprains, bee stings and sunburn. Lavender can also be used as a mosquito repellent when applied to the skin.  Scientists are also studying the effects of its elements to calm the pain from cancer.
For centuries lavender has been used in pillows to help with a peaceful sleep and also mixed with chamomile as a sleep aid.  Scientific evidence suggests that aromatherapy with lavender may slow the activity of the nervous system, improve sleep quality, promote relaxation, and lift mood in people suffering from sleep disorders. Studies also suggest that massage with lavender, may improve sleep quality, mood, concentration, and reduce anxiety.
Aroma therapists also use lavender in inhalation therapy to treat headaches, nervous disorders, and exhaustion. Lavender can be used to treat skin ailments, such as fungal infections, wounds, eczema, and acne. It is also used in a bath for joint and muscle pain. One study has shown that found that oxygen supplemented with lavender oil improves pain control after surgery.
Whether you love it or If you are not yet familiar with lavender, give our Lavender Delight soap a try, it is a soothing and relaxing blend of lavender, ylang ylang, and a touch of sweet orange essential oils. Lavender essential oil aids sleep and relaxation. Try it out in a bath or shower before taking a nap or going to bed!