Are you living your dreams? My brother and his wife are living theirs and I couldn't be happier for them. Here is a little history. When I was in my late teens I worked at a summer camp in Bea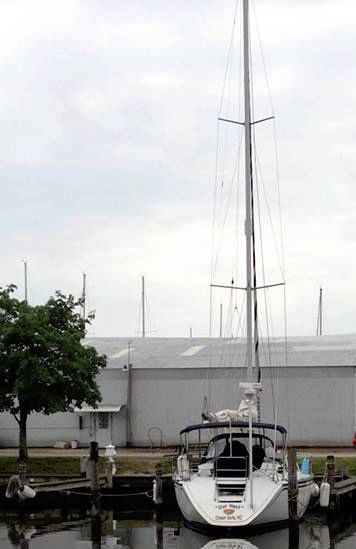 r Mt. NY (by the way that is how I came to be a NYer). When I would get my week off I always ended up on my big brother's doorstep. You see he had a sailboat. And he and his wife were so gracious to put me up and take me sailing too. That continued for many summers. When they had their son and moved away from the water they sold their sailboat. That was almost 40 years ago. Two years ago his youngest son married a lovely girl whose family had sailboats and they sailed with them on numerous occasions. And I think they fell in love with sailing again.
When my brother retired, he still had his own business that he and his wife operated. Then they sold their business and they contemplated about what they would like to do now. How fortunate, that they both had a shared dream of living on a sailboat. So they bought one. The boat is a beauty and much larger than the one they owned years ago. It is 36 foot and that may sound spacious but let me assure you it is not. Their plan is to sail it down to the Florida Keys for the winter.
We went down to visit them and check out their new home on our way to our anniversary get away weekend. They welcomed us aboard and showed us around which you can do standing at the bottom of the stairs. Then we all went out for a very pleasant sail in the bay. Being the ever gracious hosts that they are, they gave us the best sleeping quarters and they took the bed in the bow (front of boat for those who are not nautically inclined) I slept fine, my 6'2″ husband Dean, not so much. He realized he seems to be getting somewhat claustrophobic as he gets older. Not such a good thing on a sailboat. He finally gave in and went out and slept in our truck. He was able to get some sleep and woke somewhat refreshed around 7:30. I can't remember when he has slept that late. My brother and his wife made us a delicious breakfast and we said our goodbyes and wished them well.
Because of the wonders of technology, my brother can keep his family and friends updated on their adventure. I video chatted over the computer with them the other day. They were about day 8 into their adventure. I'm not sure I have ever seen them looking so happy! I mentioned to them that they haven't killed each other, they are still talking and sitting next to each other and they look so happy. They said that they are, the boat doesn't seem small to them, they don't miss having a house and they are having the time of their lives; living their dreams. I am just so happy for them and that we can share their journey with them via the wonders of technology.
But it got me thinking. Sometimes we hold onto what we have so tightly that we can't imagine the possibilities that might be even more fulfilling then what is; definitely something to ponder. I think we are in part living our dream with a little consuming hobby called Alabu. How about you? Are you living your dreams?