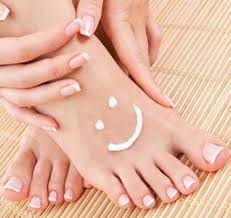 Most people try to take care of their face and hands but ignore their feet. We just take our feet for granted even though they work hard every day. We have a tendency to only think of them when they hurt. It's a great time to pay some attention to your feet and get them in shape for sandals. A nice way to pamper your feet is a pedicure.
You can have this done at a salon or you can do it yourself at home.
Remove your nail polish (if you're wearing any).

Soak your feet in warm water (use dead sea salt or epsom salt if you have it!) for five to ten minutes.

Dry your feet and use a small brush to remove dead skin (a pumice stone also works well for calluses).

Soak your feet in water for a few more minutes.

Apply your favorite Body Butter to your feet and massage thoroughly.

Next you'll want to trim or file your nails. Just cut straight across to prevent them from becoming ingrown. If you are prone to this, just cut a small notch in the middle of the nail to relieve the outward pressure.

You can use a cuticle stick to push the cuticle back at this point.

Finish with your favorite nail polish. You might want to add a clear base coat to smooth the surface out before adding the final color coat. Adding a top clear coat will help your pedicure last longer.
Now that your feet are feeling and looking great don't forget the advice of the American Podiartric Medical Association for taking good care of your feet.
Properly fitted shoes are essential. Many people wear shoes that don't fit right and cause foot problems. Shop for shoes in the afternoon because your feet swell a little during the day,and it's best to buy shoes to fit them then. Also, have your feet measured every time you purchase shoes and do it while you're standing. When you try on shoes, try them on both feet because many people have one foot larger than the other. A shoe with a firm sole and soft upper is best.
Pantyhose or stockings should be the correct size. 

Never cut corns and calluses with a razor or knife. 

Bathe your feet daily in lukewarm (not hot) water, using a mild soap, preferably one containing moisturizers, or use a moisturizer separately.

Test the water temperature with your hand.

Trim or file your toenails 

straight across.
Inspect your feet every day, especially if you have diabetes.
If you can't do this,have someone do this for you. If you notice any redness, swelling, cracks in the skin or sores, consult your doctor.