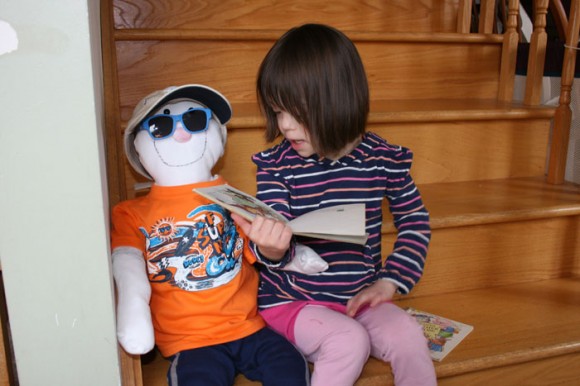 It's Spring and our petite little bundle of energy, grand daughter Number One, had the week off of preschool. Since Dean decided to take Friday off from work I thought it would be fun to have Number One here for the day.
We started our day by picking her up at 6:30. I thought we would continued the fun all the way through dinner and a bath so she would be all ready for bed when we take her back home.  She can be a handful when she is with her younger sister and the twins but when she has your undivided attention, well she still keeps you on your toes but her joy is contagious. She loves to be a big  helper and work along side you.
After morning chores we went out to breakfast and did some errands. When we got home Number One helped ship orders and pack soap I had already wrapped. Then we moved on to laundry, she loves pushing buttons ( the ones on the washing machine as well as her mother's, I think ). In between laundry she played with P. Buddy. They played matching games, read books and played on the chime along. Then we went shopping and she decided P. Buddy should come too.
After all the work was done Papa tried to take a nap, but Number One decided he didn't need one. Papa put some music on and she thoroughly entertained us with her dancing and singing. After dinner her daddy called and said he was out and could pick her up. We were having such a good time, but I couldn't  thank him fast enough! Dean and I were both exhausted. That tiny little girl sure does keep you busy, but she sure fills your heart with love.