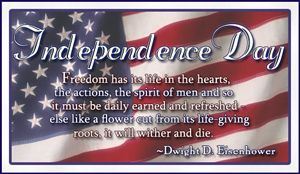 What is The Fourth of July? Is it just the first holiday of summer or another day off from work for a party? In the past it was always called Independence Day and there is a reason for that. Independence Day celebrates the adoption of the Declaration of Independence by delegates from the 13 colonies in 1776. The Declaration of Independence changed the course of history. It celebrates the experiment of a new kind of government. For the first time in history, the people, not kings or conquerors, would rule a nation. Elected delegates would vote; representing the will of the people, because they declared it is a natural right for man to be free.
After the vote, John Adams writes to his wife, Abigail: "Yesterday the greatest Question was decided, which never was debated in America, and a greater, perhaps, never was or will be decided among Men. A Resolution was passed without one dissenting Colony 'that these united Colonies, are, and of right ought to be free and independent States, and as such, they have, and of Right ought to have full Power to make War, conclude Peace, establish Commerce, and to do all the other Acts and Things, which other States might rightfully do…' This . . . Day . . . will be the most memorable Epocha, in the History of America. I am apt to believe that it will be celebrated, by succeeding Generations, as the great anniversary Festival. . . . It ought to be solemnized with Pomp and Parade, with Shews, Games, Sports, Guns, Bells, Bonfires and Illuminations from one End of this Continent to the other from this Time forward forever more."
So on this day, July 4th 2015, Independence Day, have a party, celebrate, have fun, just remember what you should be celebrating. I am celebrating the fact that I have the ability to worship God, live my dream, be independent and own my own business making our healthy skincare products! What about you? What are you remembering and honoring about the fourth of July?