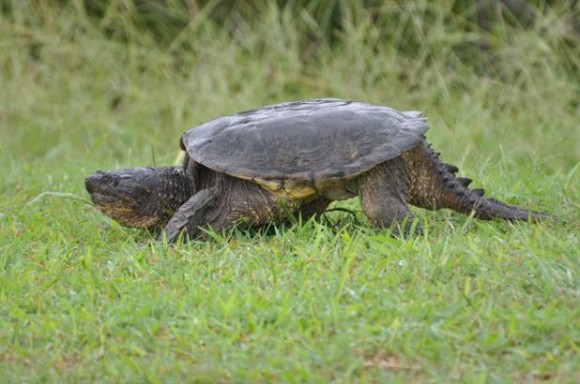 It seems as if all creatures great and small have come to life around here lately. We are always happy to see the hummingbirds come back, but there are a few creatures I'd rather not see. Although it is better to see them so I can avoid them I suppose.
So far we have seen lots of deer (hope they are not checking out the menu in my garden), turkeys, fox and pileated woodpeckers. I almost ran over 3 woodcock chicks when I was wheeling mulch to the garden; it startled me when I saw the mom fly away and I stopped in my tracks until I figured out where all the babies were hiding in the grass. Then while I was mulching, I was startled again by a large toad, also not a big deal once I realized what it was.
Dean inadvertently picked up a small northern brown snake in the mulch he was bringing me; he was deposited in a bucket and brought back home on Dean's next run to the mulch pile. These are all creatures that can startle but I'm not really afraid of them. Then Dean pointed out that there was a large snapping turtle out near the garden. It was a really big snapping turtle. Ok, that is one I am afraid of. It made me shudder to think my little grand babies ( I know they are not quite babies anymore) were out playing just an hour before we found the snapper there. Fortunately Dean is not afraid of much and he asked Mr. Snapper to get in a bucket and he was able to move him to a swampy area away from where my precious grandbabies play.