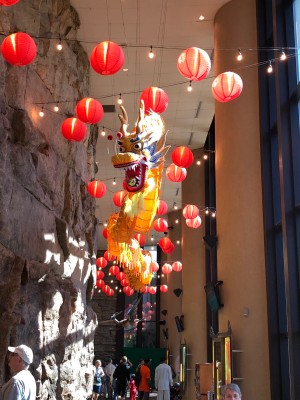 Last week Dean and I celebrated 40 years of marriage.  I always like to go to the seashore if we get a  chance to go away for a few days. This year we wanted to take a whole week away, but things weren't coming together for a  shore trip. So I did something I hadn't thought to do before, I asked Dean where he would like to go (I know, my bad). I was a bit surprised when he said The Ark Encounter. I knew he has wanted to go there. It's not that I didn't have any interest in going, but it wasn't the romantic getaway I was I had imagined.
I took on the logistics on planning our trip.  The first order of business is always to see if one of our kids and their family would like to stay here and take care of the farm. Fortunately our daughter and son-in-law were able to stay, that includes five kids the youngest 2 months old and their two dogs.  Somehow our daughter managed to take on the added burden of caring for all the critters living here and the garden which is abounding with tomatoes, green beans and raspberries right now ( did I mention she homeschools her kids?).  In my research I found that there is a nearby sister attraction, the Creation Museum.  We decided to go to there first.   It is a 12 hour drive for us from Saratoga, NY, too long for me as a one day drive. So we planned to take two days to drive there. I also planned to stop on the way back at Lake Erie, to try to work in my love of the water. 
Things didn't work out perfectly. The first night we ended up in a motel that reeked of stale cigarette smoke. Then the second day the engine light came on.   Dean wondered how serious it might be.  I got out the owners manual to see what might cause the light to come on. In a strange way, this seemed romantic to me. I was able to contribute to our drive time. Dean always does all the driving when we are together. I would take it personally, but it doesn't matter who is with him, Dean always drives. I read that there were 3 reasons for the engine light, one was bad gas. That one made sense to Dean, he thought the last station we were at looked a little sketchy.  We were hoping it was just bad gas, but the truck is 10 years old and Dean wasn't too hopeful it would be that minor. We put it out of our mind once we got to the Creation Museum.
We stayed about 4 hours, and didn't see it all but we were tired and wanted to get to our hotel.  Once school starts there are a lot of seniors traveling, many were on rented scooters which made it a little congested. But we had an enjoyable day and we were thankful we are still in good health.  After settling into the hotel, we went to an Advanced Auto to have them read the computer code, then called our son.  They both thought the truck we would be ok till we got home. Our hotel was very nice, although Dean was disappointed the hot tub wasn't hot. The next morning we drove to the Ark Encounter.  The Ark is the main attraction, but the grounds also have many other things to do. After 7 hours, we didn't see it all but gave in to our tired feet and headed to the hotel.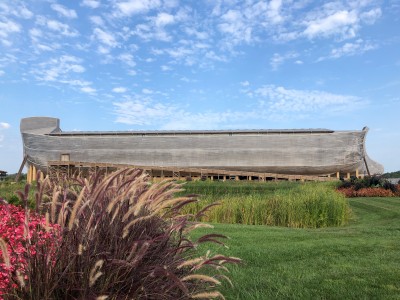 We stopped for gas on the way,  we made sure it was brand name this time. As we were pulling in I saw a sign saying something like "drive your engine clean", we figured that couldn't hurt. Sure enough the next day the engine light turned off on our way to Erie. Once there we headed out to the "Presque Isle Pennisula State Park".  It was a nice drive with varied environments, the bay on one side and the lake on the other with several sand beaches on the lake side. Our hotel was on the bay and was excellent. Dean appreciated the hot tub, it was hot this time. While it was all very pretty, it wasn't at all like the ocean. All in all we we had a memorable  adventure together. We truly enjoyed each others company without all the daily distractions.