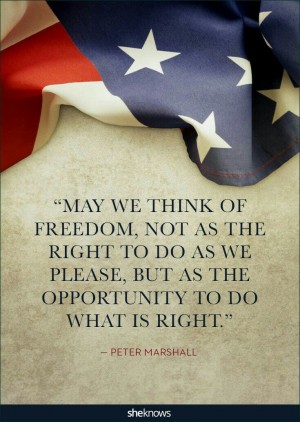 Why do we celebrate Independence Day, the 4th of July?  Is it just the first holiday of Summer or another day off from work for a party? In the past it was always called Independence Day and there is a reason for that. Independence Day celebrates the adoption of the Declaration of Independence by delegates from the 13 colonies in 1776. The Declaration of Independence changed the course of history. It celebrates the experiment of a new kind of government. For the first time in history, the people, not kings or conquerors, would rule a nation. Delegates elected by the people would vote, representing the will of the people, because they declared it is a natural right for people to be free. This was a radical new idea that would allow people to pursue their own dreams and see their own hard work benefit themselves and their family. No where in the world before, had people been inspired to be independent and self sufficient.
After the vote, John Adams writes to his wife, Abigail: "Yesterday the greatest Question was decided, which never was debated in America, and a greater, perhaps, never was or will be decided among Men. A Resolution was passed without one dissenting Colony 'that these united Colonies, are, and of right ought to be free and independent States, …This . . . Day . . . will be the most memorable Epocha, in the History of America. I am apt to believe that it will be celebrated, by succeeding Generations, as the great anniversary Festival. . . . It ought to be solemnized with Pomp and Parade, with Shews, Games, Sports, Guns, Bells, Bonfires and Illuminations from one End of this Continent to the other from this Time forward forever more."
Was it perfect? No, but it was a daring experiment to throw off the yoke of class and let people govern themselves and strive to be better. America has been striving to be better since its inception.
So on this day, July 4th, Independence Day, celebrate… just remember what you are celebrating. I am celebrating the vision of our founding fathers and the brave men and women who have sacrificed to make us free, the right to worship God, love my family and friends, live my dreams, be independent and own my own business making our healthy skincare products! What about you? What are you remembering and honoring about the 4th of July?