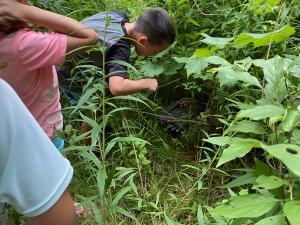 Guinea hens are very private birds when it comes to their reproduction. You don't see them procreating and they don't want you to see their nest either. I would love to let them go ahead and sit on their eggs for 28 days to hatch their babies, except that predators also love the idea too. We have lost 2 of our guinea hens. They didn't come home and I couldn't find where they were sitting on their nest and make them come back to the safety of the coop.
Fortunately, the last time a hen didn't come home for the night, SDK was here to help. That is our grand kids business, "Spy Detective Kids", yes really they made a business card and everything. It was really fun to follow the SDKs because they were so excited.
First Miss Number Four exclaimed she found a feather, Mr. Number Three responded with "Is it a guinea hens?". With each feather they found their were cheers and building excitement. They searched for the next feather and the next and found a small path through the underbrush. Then Miss Number Two who was the last in line yelled, "There's the Guinea hen!". They had finally found the hen on her nest. You would have thought it was Christmas morning!
Not thinking we would actually find the hen and her eggs, I had forgotten to bring a bucket to pick up the eggs. If you don't pick up the eggs, it is impossible to get them to go back to the coop. So I recruited the SDK team to carefully carry the eggs back in their shirts, while I herded the guinea hen back to the safety of the coop for the night. I am happy to report that we all made it back, the guinea to the coop and all 32 eggs to the house. I gave some to our new neighbors to see if they can hatch out another batch of keets and to another gal who wanted to hatch some too. I always try to find someone to hatch them to help fight ticks every where they roam. Thanks to the Secret Detective Kids, for helping me to find  them.