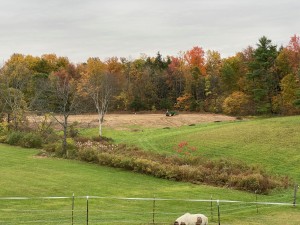 Can you see a Dad in this picture? He is the little speck in the middle of the picture, to the left of the tractor. The reason he doesn't even look like a person is because he is up to his chest in a drainage ditch he has been working on. Our son and his partner's  landscape business (Terra Mira) have been using our front field for their landscape business and compost operation, but that field is eventually going to be the site of our daughter's family house so Terra needed to move.  Terra was hoping to buy a piece of land this year for their compost operation, but that deal fell through. Now they needed a place fast, to put the leaves they will be collecting soon from all their fall clean ups. So this Dad suggested using our back field, but it needed some leveling and a drainage ditch.
Terra planned to do all the work, but they are growing so fast they just ran out of time so dad suffered through bulldozing ( just kidding, Dean jumps at a chance to learn to drive a piece of heavy equipment) and then followed up (without heavy equipment) getting the ditch ready for landscape fabric, adding stone and the drain pipe. They didn't ask him to do it, but this Dad knew they were going to need the field before they would be able to get to it and it needed to be done before it rained again. It was cold wet work, but he didn't want the boys ( both in their 30's but we still call them boys :o) to work into the wee hours of the night to get it done or worse yet not get it done and not be able to use it for their fall clean up. So he worked all day getting the work done, because he is a good dad.
This is not an isolated incident. He gets up early and before he leaves for work at 5am he does a little book keeping for the boys landscape company. He also meets with them sometimes before he leaves to see how things are going. He is always there for our family and all the grandkids, even the youngest think he is just the best. I think I have to agree.