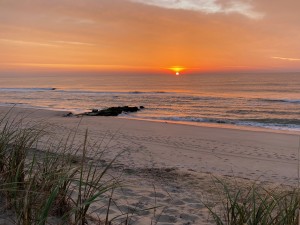 Dean would like to take a vacation to see new places, but I am sort of a homebody and we usually don't go any where. I am usually happy to stay here taking care of our little farm.
Until 5th grade, I grew up not too far from Sandy Hook, NJ and our family spent a lot of time there in the summers. So even though I love our little farm, I sometimes get a yearning to watch the sunrise over the ocean and walk barefoot on the beach for miles. I love smelling the salt air and hearing the shore birds calling.
The last few years, we have tried to get away for a little vacation to celebrate our wedding anniversary. Last year I waited too long to make reservations to go to one of my favorite places, Long Beach Island, NJ. This year despite covid and Dean figuring out he could even take a few days off, it all worked out to take a few days off to go to the beach.
For some reason trip logistics are always my job. The first order of business is always to see if one of our kids and their family would like to stay here and take care of the farm. Fortunately all the grand kids love it here and our daughter was  happy to stay.  Somehow our daughter managed to take on the added burden of caring for all the critters living here. She kept up with the garden, barn chores, our annoying dog and her 5 kids and their homeschooling.
Even though the weather was cloudy and chilly, we saw sunrises, walked for miles, collected seashells and saw pelicans and dolphins. So we had a nice little vacation, mission accomplished. I know Dean would like to go and see new places but he still likes me enough to humor me and accompany me to the Island.