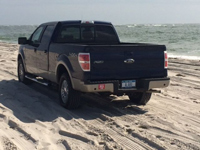 We always think we should try to get away, but for one reason or another we never seem to get there. This year we did make plans and even though there were many other things that got it the way, we managed to get way for a long weekend for our 35th anniversary.  
We both have fond memories of Long Beach Island NJ vacations with my family, so that's where we went.  We love it there in the off season. Every morning we go to the beach to see the sunrise and return at the end of the day to catch the sunset.
At the south end of the island there is a wildlife preserve that they open to 4×4 vehicles in the fall. The manager of the hotel we stayed at said it was ok to drive on it without a permit, but we opted to go and buy one. We were so glad we did. Dean is pretty much of an expert driver. Driving in snow is no problem for him. But sand proved to be a different story. We drove out following the rules of the permit and got stuck about a 1/4 mile out. As much as Dean tried to get the truck unstuck it just got worse. And just to add a little extra adrenaline into the situation the tide was coming in and it was already a few feet from the tires. Every time Dean tried to get us unstuck the truck slid a little closer to the incoming waves. We called the number on our permit paper and they gave us a number to call for a garage.  They said the minimum to tow us out was $300. Fortunately a kind couple stopped and took pity on us. The solution was as simple as letting some of the air pressure out of our tires. Dean was able back up and continue our trip. Dean called and cancel the tow, but it didn't seem like they were in any hurry to come to our rescue anyway.  It didn't take long for Dean to really get the hang of driving on the sand. We even took some fellow vacationers out to the end of the preserve for a little bird watching. We are so thankful for the couple who stopped to tell us the secret of driving on sand.