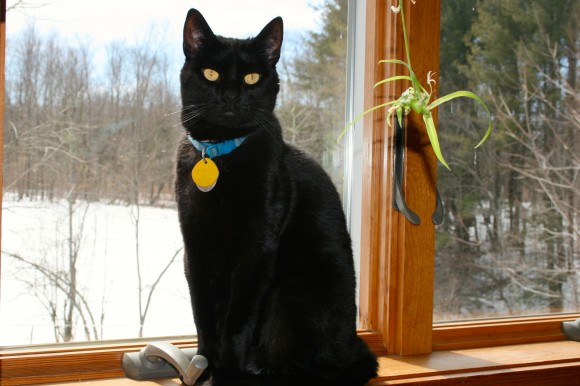 When Dean came home the other afternoon he wondered where our cat Bu was. I had a very busy day and when I stopped to think about it I realized I had not seen her all day. She is a social cat who usually likes to pester me when I am working on the computer in the morning and always sits with Dean in the evening. She is usually seen around the house in various places throughout the day.
Dean and I both started searching, but Bu was not in any of her favorite spots. We searched under the furniture, in my sewing room and even in the basement where she is not allowed. I recruited our dog Chia in the search and she was eager to help, but we were no further ahead in finding Bu. Our son and his wife even searched high and low with no better luck in finding our cat. We finally concluded she must have escaped in the  darkness when Dean left the house that morning.
We were very concerned for her as she never ventures outside and it was a cold windy day. That night I posted a lost pet alert on Home again webpage ( a pet micro chip company). Later as I was walking past the basement door I flipped on the light and looked down. There was Bu sitting lazily at the bottom of the stairs, waiting for someone to let her up. We couldn't believe she was down there, it was searched no less than 8 times by 4 different people and a dog. I guess when a cat doesn't want to be found they won't be, but we are vey happy she decided to grace us with her presence again.